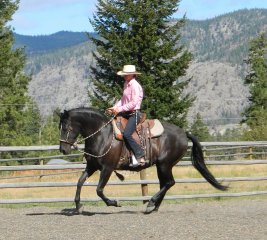 "Well, every man has a religion; has something in heaven or earth which he will give up everything else for – something which absorbs him which may be regarded by others as being useless – yet it is his dream, it is his lodestar, it is his master…" Walt Whitman

Lodestar " A guiding principle, interest, or ambition. "
Stefanie Travers became immersed in the world of horses as a young child. She was eventually able to transform passion into vocation. Her rich and varied experiences have included work as a professional farrier and in Natural Horsemanship and Foundation Development.
"My true passion and joy is helping to empower both the horse and human to their greatest potential and their own unique path."