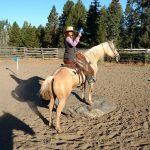 "A Celebration of Em-bodiment and Re-membering"
When: July 18-22, 2018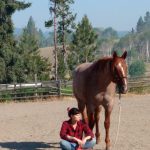 What: Collaborative Retreat
Highly unique, challenging, rewarding, soul searching, healing, balancing, enlivening, provocative and, relaxing…these are all words that come up from feedback to describe this phenomanl gathering.
This is our Fourth year of this heartfelt project , and it has truly taken on a life of its own. With an overarching theme of deep connection back to ourselves as women; our sense of play, stillness, and wonder, our horses hearts and bodies, our sisters and kindred spirits and our great earth we walk upon.
We spend the mornings in small groups, rotating through time with myself doing mindful exploration of our horses with the Waiting Game, a  bareback  awareness meditation and experiential excercises in feel, timing and breath.
Alexa Linton will take you on a nature/soul exploration an a reconnection back to a more authentic way of being and moving through this world.
Our co-fascilitor, Audrey "Sassy Six Gun" will push you gently off a cliff of play and expression with her enormous rack of  olde time Cowgirl Dress up clothes aa well as some real six gun shooting. This years photographer is the incredible Connie Ellis, who intuitive skills behind the camera will capture those moments of fun, joy and connection for you.
Christa  Miramadi leads us through morning Qi Gong class one day as well. The afternoons are free for trail riding, regrouping, hang time with others and the horses.
Friday is the hilarious Cowgirl Games designed with challenges for increased horsemanship and group partnership in  non competitive and belly laughs followed by a big old barbeque and music on Saturday where we open the doors to husbands and boyfriends.
With all these gifted facilitators it will undeniably be an experience that will change your Life! Held at the incredible Seven Half Diamond Ranch www.guestranchbc.com
Please note:
This event is SOLD OUT for 2018. Look for 2019 dates soon and get a deposit in to secure your spot for this life changing retreat.